History Walks
NEW for 2023! Witches; Trial and Truth
In Summary
Hear centuries of myths dispelled – it's time for truth
Uncover the very real history behind Scotland's witch trials
Discover true accounts of those accused of witchcraft
Visit the locations where Scotland's witches were once executed, and are now remembered
Mercat exclusive audio devices, be immersed and get lost in the stories
Choosing Mercat is 'Good for you, Good for Edinburgh' - our team, community and planet.
Please note this tour is adults-only due to mature themes.
About this tour
The History of Scotland's Witches
Accused, tried, and tortured. Step into the past and bear witness to the truth about Scotland's 'witches' following their tragic last steps on this five-star Edinburgh history tour. 
Persecution of the weak, the wise and skilled?  Roused by fear and envy?  Inflamed by religious zeal? 
You're invited to listen carefully and perhaps think again... You'll be transported back to a dark time ruled by a crazed king and his obsession with the dark arts, 'otherworldly phenomenon'. Join us to walk the cobbled paths of Edinburgh's Old Town and its centuries-old closes, reach Edinburgh Castle esplanade the site where hundreds burned at the stake.
Witches of Edinburgh
Hunted and hanged. Around 2,500 people were executed for witchcraft in Scotland across two centuries. Agnes, Geilis, Janet, John… Learn names and hear stories of some of the women, and men, accused of sorcery. Alleged psychics, hexers, and communicators with the devil coerced into confession. Our stories will begin with the accusations, then the trials and lead to the tragic fate suffered by many.
History and Hysteria: Their Trials and Truth Told
There was no justice in court, nor truth in tribunals for accused 'witches'. On this tour, our award-winning Storytellers shine a light on the truth behind the trials and the real reasons behind the witch crazes that swept like a fever for centuries, across Scotland and beyond.
Book ticket
Tour details
Dates & times
Saturdays; afternoon


Private group bookings
Reconnect with friends and family on a tour just for you. Book online now, or we're happy to help on email info@mercattours.com
Details
Tour location
Start point: Mercat Cross, High Street
End point: Edinburgh Castle esplanade, Castlehill
Need help booking?
Get in touch with us and one of our experts will be able to give you advice on our tours.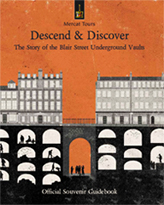 Souvenir Guidebooks
Don't forget to buy a Mercat Tours souvenir guidebook with your ticket.
See inside