Ghost Tours
Hidden & Haunted
In Summary
Uncover the most sinister side of Edinburgh's Old Town on this dark adults-only ghost tour
Follow your guide deep underground into the famous Blair Street Underground Vaults
Mercat exclusive audio devices - be immersed and get lost in the stories...
Choosing Mercat is 'Good for you, Good for Edinburgh' - our team, community and planet
About this tour
Edinburgh underground ghost tour
This is easily our goriest, most graphic and spine-chilling Edinburgh ghost tour, where we take you on a dark and eerie journey through Old Town's sinister wynds and closes before descending into the haunted Blair Street Underground Vaults.
Hear of tales not fit for the glare of daylight – or for telling to those under the age of 18. Perhaps what's spookiest of all, is that these twisted tales of history at its worst are all true stories.
Your ghost tour begins above ground at the Mercat Cross, before making our way through the city's narrow cobble-stone streets where murders, misdeeds and mischief took place. You'll learn about bloody plots that led to treason and torture – as well as secret lives that led to horrific deaths and tormented souls.
Descend and discover...
Is it my imagination, or did it just get a little colder? There's definitely an unsettling feel to our Blair Street Underground Vaults – your expert Mercat Storyteller will reveal troubled tales as you continue this underground Edinburgh walking tour. Expect true stories of murder and hangings – all in the atmosphere of the vaults.
Pick out evidence of life in the distant past – and perhaps more – lurking just beyond the faint glow of your Storyteller's candlelight.
Customer review
"What an amazing addition to my trip to Edinburgh my Hidden and Haunted tour was!"
Christie, Google
Book ticket
Tour details
Dates & times
Daily; evening

Private group bookings
Reconnect with friends and family on a tour just for you. Book online now, or we're happy to help on email groups@mercattours.com
Details
Over 18s only on this tour. These are dark, late night tours; please don't drink any alcohol before you arrive.

Donate to help us reconnect vulnerable communities through storytelling - learn more about Our Stories, Your City.

Everyone has a warm welcome from us;
NEW FOR 2023; local Edinburgh residents eligible for concession rates (EH postcodes)
Complimentary tickets are available for carers, to book call us on 0131 225 5445.
Read how we include you here
See our Euan's Guide Reviews.
Language: English. Learn more on our FAQs
Tour location
Start point: Mercat Cross, High Street
End point: Hunter Square
Need help booking?
Get in touch with us and one of our experts will be able to give you advice on our tours.
Customer review
"What an amazing addition to my trip to Edinburgh my Hidden and Haunted tour was!"
Christie, Google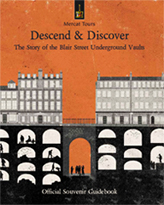 Souvenir Guidebooks
Don't forget to buy a Mercat Tours souvenir guidebook with your ticket.
See inside