Ghost Tours
Evening of Ghosts & Ghouls
About this tour
The night begins with a walking tour of the darker closes and wynds of Edinburgh, before journeying into the haunted Blair Street Underground Vaults. Finally, we'll retire to a candlelit cellar for a dram of Scottish whisky and an evening of storytelling.
The air filled with cries and taunts, and a crowd of thousands baying for the blood of two men – snatched from their cells, lynched on a dyer's pole.
Take your place as a member of the 'Edinburgh mob', which once surged in riot past the Mercat Cross. Hear grisly tales of witchcraft, torture and restless spirits as you venture down medieval closes and descend into the haunted Blair Street Underground Vaults. Your cloaked guide will lead you through the dimly lit caverns, filling the night with stories – all of them true.
Stories of blood, guts, and gore. And a whisky to warm the heart.
As night thickens, we'll gather in Megget's cellar for a whisky – or a glass of lager or soft drink if you're not fond of a dram. In the warmth of candlelight, your storyteller will conjure more tales of Edinburgh's ghoulish past, and the tortured souls that stalk the city's streets.
---
"Loved our evening of Ghosts and Ghouls on Sunday...Highly recommend!" - Connie, Facebook
In Summary
Take an informed, chilling look at Edinburgh's ghostly past
Explore the Blair Street Underground Vaults with an expert storyteller
Recover with a dram of Dewar's Scotch Whisky in our candlelit cellar
Enjoy a ghost tour of Edinburgh based on real events
Book ticket
Tours details
Dates & times
Daily: 7.00pm, 8.00pm & 9.00pm
Full evening experience, with a complimentary drink
Children over 5 years of age are welcome – but you'll need to judge if they're up to it!
You do need to be over 5 years old to join our tours.
Tour location
Start point: Mercat Cross, High Street
End point: Megget's Cellar, Blair Street, off Hunter's Square
Need help booking?
Get in touch with us and one of our experts will be able to give you advice on our tours.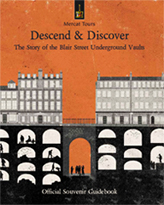 Souvenir Guidebooks
Don't forget to buy a Mercat Tours souvenir guidebook with your ticket.
See inside