Ghost Tours
Ghostly Edinburgh
In Summary
Stay above ground and follow the fate of villains and victims from Edinburgh's dark past, who haunt the streets to this day
Delve into the gore of Old Town Edinburgh's darkest deeds and crooked characters
About this tour
The gruesome stage
Few places have mixed horror and entertainment as effectively as the gallows, and our own Mercat Cross. On this daytime Edinburgh ghost tour, you'll hear tales of those who met their end with a noose around their neck – and whose torment continued into the grave.
Our Edinburgh ghost walks allow you to stand in the spot where the gallows once stood, a stage in the midst of a baying crowd. Imagine the rope slipped over a bagged head, cinched tight. The air falls quiet. A lever creaks, the trapdoor clatters, the rope snaps taut, the body swings…
Crooked characters to sorrowful spirits
This tour transports you to the gruesome spectacle of Edinburgh's many punishments and deadly consequences. Hear of villains and victims from the city's past who haunt our dark streets; criminals, murderers and unsuspecting innocents.
You'll hear how the Edinburgh Mob took an execution into their own hands, the truth behind the ghastly apparition of Johnny One Arm and the reason you should be fearful if there is a certain number on the door of your accommodation...
Explore the difficult and grim lives of those living amongst the cobbled closes in 1800's Edinburgh – those who met their untimely end and some who never met their eternal rest. You'll hear of those lying still in their graves and those less lucky – the unmarked patches of earth – places where murderous spirits used to lie, their restless souls set loose on the city.
Book ticket
Tours details
Dates & times
Daily: 13:00, 15:00
Private group bookings
Reconnect with friends and family on a tour just for you. Book online now, or if you'd like we're happy to help on email info@mercattours.com
Details
Tour location
Start point: Mercat Cross, High Street
End point: Hunter Square
Need help booking?
Get in touch with us and one of our experts will be able to give you advice on our tours.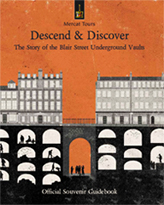 Souvenir Guidebooks
Don't forget to buy a Mercat Tours souvenir guidebook with your ticket.
See inside