History Walks
A Royal Mile Special: Chinese New Year
About this tour
The pig is known for being hard-working, focussed, trusting and social; and we have plenty of those characters in Scotland's history.
The personality of the pig is seen throughout the history of Edinburgh in ways and places you may not know. On this walking tour we'll explore the giants of Edinburgh's past and their qualities that make them suited for this Year of the Pig.
You may even hear a story or two about the creatures themselves. Join us on this trot around the city to discover its secrets.
猪年出生的人以勤奋,专注,努力和值得信任而被人称赞,在苏格兰历史上有很多这样性格的人物。在这次中国新年特别活动中,我们将带你了解爱丁堡历史上和猪年相关的历史人物和事件。想了解下妙语连珠的领队是如何用苏格兰历史诠释中国新年吗?加入我们一起去发现其中的秘密吧!
Book ticket
Tours details
Dates & times
Date: Sat 02, 09 Feb
Time: 3pm
Tour location
Start point: Mercat Cross, High Street
End point: Mercat Cross, High Street
Need help booking?
Get in touch with us and one of our experts will be able to give you advice on our tours.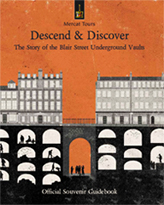 Souvenir Guidebooks
Don't forget to buy a Mercat Tours souvenir guidebook with your ticket.
See inside