About this tour
Explore, uncover, examine and imagine!
Lead your class back in time with a private tour built around your curriculum needs. Let our guides bring history to life as you explore the historic streets or down into the Blair Street Underground Vaults.
Your class will experience:
- What the people, places and past were like in Edinburgh through the centuries
- The clues they can find themselves which tell us about the past
- The famous and infamous characters that walked our streets
Together, our experienced guide and your budding historians can discover Old Edinburgh.
We can provide ghost and history themed tours tailored to your studies, age group and requirements. We also work in partnership with the National Trust and can arrange entry into some of their historic Edinburgh properties as part of your tour.
Learning with Mercat Tours
Your pupils won't even realise they're learning and we know exactly how to bring the Curriculum for Excellence to life – through inspiring places, costumed performers and vivid storytelling.
Mercat Tours was established by history teachers back in 1985. So we'll start by asking exactly which learning outcomes you'd like to achieve. We normally work with pupils aged 7-14, but we're happy to design a day for just about any year group.
Every class is different. So your package will be built around your brief, and designed to make a lasting impression with the group.
The format? We have lots of great ideas, but typically your pupils will unearth clues and uncloak historical characters.
We work closely with Historic Environment Scotland and the National Trust for Scotland. So if you'd like to visit the Palace of Holyroodhouse, Edinburgh Castle, the Georgian House or Gladstone's Land, we can incorporate the visit in your request.
Please get in touch and we'll be happy to arrange your specialised tour or learning event.
Enquire about Schools
Tour details
Tour location
Start point: Mercat Cross, High Street
Need help booking?
Get in touch with us and one of our experts will be able to give you advice on our tours.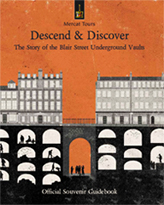 Souvenir Guidebooks
Don't forget to buy a Mercat Tours souvenir guidebook with your ticket.
See inside