Private Tours
Travel Trade
About this tour
Built with the travel trade in mind
First things first: we pay commission, and it's easy to book your group tours online.
When you choose Mercat Tours, you know the tour will go ahead – no excuses. We also make sure the tour is personal, friendly and easy to follow, thanks to small group sizes.
We even offer skip-the-line access at Edinburgh Castle, the Palace of Holyroodhouse and easy group access to the National Museum of Scotland helping your guests to make the most of their visit.
Another side of Edinburgh, since 1985
Trust. It's what the travel trade is built on. So it's good to know we have 5 stars and a 91% rating from VisitScotland – as well as being one of Scotland's top 11 attractions.
But apart from our awards – and the fact we've been uncovering Edinburgh's past for over 30 years, why do travel professionals choose to work with us?
Fully-accredited guides
Every Mercat tour is led by one of our guides – fully trained by us, on a course that's accredited by Napier University. We never outsource or compromise. Each guide has their own area of historical expertise – and all of them share a passion for Edinburgh's past.
Walking – the perfect way to see Edinburgh
Bus tours can't do justice to Edinburgh's winding lanes or narrow closes. And walking is the only way to uncover the secrets of the Blair Street Underground Vaults – we're the only tour company in Edinburgh with access.
From an hour to a full day
We can organise any of our private tours, ghost tours or history walks for your group. Looking for something a little more tailored? Just ask – we can create a unique session that's as short or as long as you want.
Got a question?
Call our travel trade specialists on 0131 225 5445, or email trade@mercattours.com
Did you know we can organise your group tour to Edinburgh Castle or the National Museum of Scotland?
Everyone has a warm welcome from us at the Mercat Cross. Read more about how we look after you and what to expect on tour on our Accessibility page and Euan's Guide Review.
Enquire about Travel Trade
Tour details
Need help booking?
Get in touch with us and one of our experts will be able to give you advice on our tours.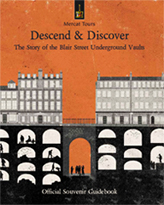 Souvenir Guidebooks
Don't forget to buy a Mercat Tours souvenir guidebook with your ticket.
See inside