Mercat tour
Historic Underground
About this tour
Get exclusive access to the Blair Street Underground Vaults – the largest system of underground caverns in Edinburgh. Built in the 18th century beneath South Bridge, we're the only walking tour company with access.
Beneath the bustle of Edinburgh's Old Town you'll discover a dark, damp world unchanged since the 18th century. Your expert guide will lead you deep into the Blair Street Underground Vaults, and together you'll explore their history – including how they became home to the city's most destitute inhabitants.
Want to see Edinburgh's darkest secret? Descend into the vaults, exclusive to Mercat Tours.
It's a story rooted in Edinburgh's Georgian past – grand feats of engineering, the expansion of the city, and those who were left behind in its darker corners.
But why were the vaults built? And who used them? Save your questions for your Mercat tour guide, a masterful storyteller who will bring the history of the vaults to life – and talk you through some of the artefacts that have survived.
The walking tour takes 1 hour and 15 minutes, with time at the end in our Discovery Room – complete with 3D model and artefacts.
In Summary
Get exclusive access to the city's oldest, deepest vaults
Discover secrets and stories of Edinburgh's underworld
Enjoy a personal tour in a small group
See and touch 19th century artefacts
Visit our Discovery Room with 3D model and display
Book ticket
Tours details
Dates & times
April - October: 11am , 12pm, 2pm, & 4pm
November - March: 2pm & 4pm
Duration: 1hr 15min
Children over 5 years of age are very welcome! You do need to be over 5 years old to join our tours.
Tour location
Start point: Mercat Cross, High Street
End point: Blair Street Underground Vaults, Blair Street, off Hunter's Square
Need help booking?
Get in touch with us and one of our experts will be able to give you advice on our tours.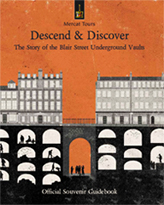 Souvenir Guidebooks
Don't forget to buy a Mercat Tours souvenir guidebook with your ticket.
See inside