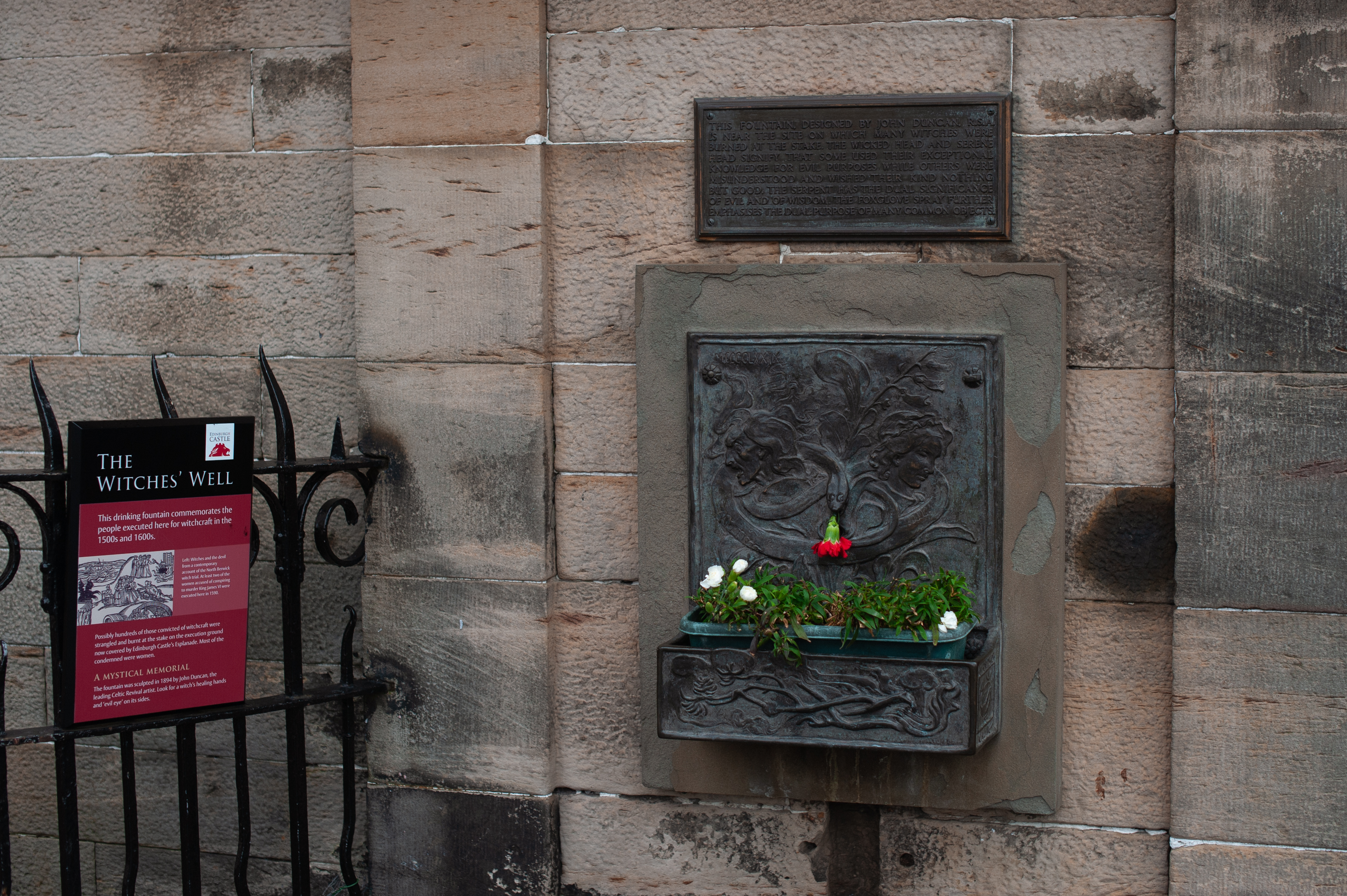 When you think of a witch, you may think of a green woman with a black pointy hat, cape, and broom. However, this is far from the truth and throughout history, there were real people accused and tried for witchcraft who were just like you! The 16th-17th centuries are known in Scotland for the witch crazes that took place and the centuries' obsession with witch hunts.
Join us in this blog as we delve into the stories of five of those accused of witchcraft in Edinburgh.
1. Agnes Finnie
Agnes Finnie was a well known and successful Edinburgh shopkeeper. However, she also knew how to stand her ground. One might imagine some of the difficulties Agnes may have faced alone in her shop in times gone by and so being firm was a necessity. Yet, it was Agnes' way with words that would eventually see her accused of Witchcraft.
One day Agnes angrily told a woman named Bessie she'd cause the devil to take a bite out of her, as she believed she'd paid her with a counterfeit coin. Once home, Bessie shared Agnes' words with her husband, John, who went to the shop and accused Agnes of witchcraft. Agnes responded in her typical fashion, and that same night John developed a fever he believed Agnes caused. He returned to her shop and warned her not to do it again - or he'd tell everyone she was a witch!
Despite their quarrels, later that year, Bessie returned to the shop and requested to purchase a cake on credit. Agnes refused and Bessie again told John who went to Agnes' shop to bully her into agreeing. Instead, Agnes said 'go away John, for ye began with witches so shall ye end with witches'. Coincidentally, John became ill again and passed away two months later. Talk began amongst the locals and due to her reputation, Agnes was formally accused, tried, and found guilty of witchcraft. She was executed in 1645 after spending nine months locked away in the local Tolbooth.
2. Lilias Adie
Lilias was a poor woman in her sixties who lived in Torryburn Fife during the 1700s. At the time, locals had been experiencing a bout of illness that they thought was due to witchcraft, and one evening Lilias became the subject of such accusations.
Likely drunk, a woman named Jean Bizet, accused her and stated 'beware lest Lilias Adie come upon you and your child' and 'by God he is going to take me! by Christ he is going to take me! O Lilly with her blew doublet!'
This was enough to see Lilias formally tried for witchcraft. Sixty was an unusual age to live to during this time and was not the norm, hence it's possible that Lilias' age made her a more likely target. She was detained in prison for a month before confessing to meeting with the devil in a cornfield at sunset. Perhaps Lilias was exhausted and delirious, or had simply given up. The accused were often asked for the names of other witches' who would then also be tried - Lilias saved lives by avoiding this question and stating that she couldn't name any, for they had all worn masks. She passed away before her execution - possibly by her own hand.
3. Major Thomas Weir
While many more women were accused of witchcraft than men, it still occurred. Major Thomas Weir was one such man, he lived in Edinburgh's West Bow during the 1600s and gained himself the nickname 'Wizard of the West Bow'. He was an older man in his seventies who had always been religious. Yet, when he fell ill, he began making criminal confessions. Due to his reputation for being devout to his religion, his confessions were ignored and downplayed under the assumption Thomas was delirious.
However, Thomas continued to make more confessions over time until the authorities decided they had to investigate. They spoke to Weir's sister, Jean, who confirmed Thomas had powers, before also stating that she'd ridden in the devil's fiery coach with him. This confession saw her tried too and both were executed in 1670.
4. Helen Duncan
Helen Duncan was one of the last women imprisoned under the Witchcraft Act of 1735, 200 years after its implementation. Helen had moved to Edinburgh to become a "show woman" under the name of Hellish Nell, performing séances where she would seemingly channel spirits and engage in conversations with their living relatives.
Helen's activities started attracting the wrong kind of attention during WWII after she claimed to speak with a sailor who had perished in the sinking of the HMS Barham – an event that no one knew about, because the War Office had not yet announced it. Therefore In 1944, police raided one of Helen's séances and placed her under arrest.
The motive for arresting Helen Duncan was that officials were concerned she would reveal the date, location and other important details surrounding the upcoming Normandy landings (a.k.a. "D-Day"). She was sentenced to nine months in prison.
Don't forget to join us on our brand new five-star Witches; Trial & Truth tour launching this April to hear more about those accused of witchcraft in Scotland.
Plus, if you found this fortnight's blog interesting sign-up to our newsletter to receive them directly to your inbox!