Ghost Tours
Misterios De Ultratumba
About this tour
El tour de fantasmas original de Edimburgo
Es el tour de fantasmas por excelencia: conocerán el lado más tenebroso y siniestro de la Ciudad Vieja y descenderán a las Bóvedas Subterráneas de Blair Street, bajo el Puente del Sur, consideradas el lugar más embrujado del Reino Unido.
Todas las historias son reales y han sido investigadas por expertos historiadores. Las experiencias de las Bóvedas Subterráneas son los testimonios reales de los propios clientes y guías de los tours.
Experiencia única. Acceso exclusivo. Misterios de Ultratumba.
El guía estará en el Mercat Cross (el punto de encuentro) 15 minutos antes del inicio del tour. Puede comprar los tickets en nuestra oficina en el 28 de Blair Street, por teléfono, a través de internet o en el Mercat Cross (sujeto a disponibilidad) 15 minutos antes del tour.
---
"Super participativo. Yo personalmente lo recomiendo" - arant0035, TripAdviso
In Summary
Hacer el tour de fantasmas original de Edimburgo
Visitar la parte subterránea más amplia de la ciudad
Saber qué es lo que ha asustado a tanta gente los últimos 20 años
Book ticket
Tours details
Dates & times
de abril y octubre: 19:30 todos los días?
de noviembre a marzo: 19:30 jueves a domingo
La visita es también perfecta para niños a partir de cinco años.
Tour location
Start point: Mercat Cross, High Street
End point: Discovery Room, Blair Street, off Hunter's Square
Need help booking?
Get in touch with us and one of our experts will be able to give you advice on our tours.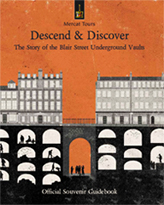 Souvenir Guidebooks
Don't forget to buy a Mercat Tours souvenir guidebook with your ticket.
See inside