Ghost Tours
Verborgene Geschichten
About this tour
Die dunkle Vergangenheit und ihre Geheimnisse
Die Tour "Verborgene Geschichten" beginnt im Schatten der St Giles Kathedrale und führt Sie danach durch die schmalen und steilen Gassen der Altstadt Edinburghs hinab in die gruseligen unterirdischen Gewölbe der South Bridge.
Sie werden den "Edinburgh Mob", den berüchtigten folterliebenden Pöbel Edinburghs, kennenlernen und Sie werden erfahren, was dieser "Mob" als Unterhaltung bezeichnete. In den "South Bridge Vaults" werden Sie die ungewöhnliche Geschichte dieses einzigartiges Ortes erfahren sowie einige unheimliche Erzählungen über jene Gestalten hören, die noch immer dort unten im Dunkeln spuken ...
Lassen Sie sich von den spannendsten Geschichten der Stadt fesseln und entdecken Sie mit Mercat Tours die dunkle und geheimnisvolle Seite des alten Edinburghs. Dies ist eine zum Großteil historische Führung, welche Ihnen ein Bild von einigen besonders aufregenden Ereignissen Edinburghs verschaffen wird.
---
"Die Tour war spannend und super inszeniert, man hat so einiges erfahren, was man vorher nicht wusste" - Sabine G, TripAdvisor
Wir haben auch eine Tour über Edinburghs Geschichte auf Deutsch mit Eintritt zum Castle.
In Summary
Die dunklen und verborgenen Geschichten von berühmten Menschen sowie interessanter Örtlichkeiten der Vergangenheit Edinburghs hören möchten
Die berühmten "South Bridge Vaults", die Kellergewölbe der südlichen Brücke Edinburghs, sehen möchten
An einer Führung mit grausamen Foltergeschichten sowie historischen Erzählungen interessiert sind.
Book ticket
Tours details
Dates & times
April – Oktober: Täglich um 18.00 Uhr
November – März: Donnerstag - Sonntag um 18:00 Uhr
Tour location
Start point: Mercat Cross, High Street
End point: Discovery Room, Blair Street, off Hunter's Square
Need help booking?
Get in touch with us and one of our experts will be able to give you advice on our tours.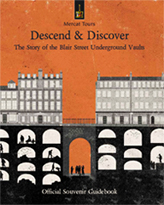 Souvenir Guidebooks
Don't forget to buy a Mercat Tours souvenir guidebook with your ticket.
See inside