Halloween Tours
Halloween Underground
In Summary
Experience a Halloween ghost tour
Get up close to Edinburgh's haunted past, at the spookiest time of year
Explore the Blair Street Underground Vaults
Learn about torturers, murderers, and witches

Check our

COVID-19 measures

- to be safe, and feel safe on tour
About this tour
There's nothing quite like taking a ghost tour of Edinburgh's most haunted vaults on the most haunted night of the year, Halloween.
The famous Blair Street Underground Vaults are spine-chilling at the best of times – a candlelit labyrinth of gloomy tunnels in which every sound, every movement in the shadows, stops you in your tracks and makes the blood run cold. At Halloween, the experience is unforgettable.
Prepare to be spooked
Your Halloween Underground tour starts at Edinburgh's Mercat Cross – a spot where criminals were once tortured and executed. Your Mercat storyteller will meet you there and lead you through the atmospheric Old Town towards the haunted vaults, stopping to tell a macabre tale or two on route.
You'll then descend into the Blair Street Underground Vaults where you will hear more sinister stories of body snatchers, murderers, ghosts and ghouls. Tread softly down there. In the vaults no one can hear you scream...

Please Note: To give a fully immersive experience, we'll provide a personal audio device. Your Storyteller will use a headset with microphone to ensure you hear every word in the hush of Edinburgh's haunted Old Town. Please do bring your own headphones/earphones - it's a standard 3.5mm audio jack.
Book ticket
Tours details
Dates & times
Friday 29th, Saturday 30th & Sunday 31st October.
Regular times throughout the day and evening
Children over 5 years old are welcome – but you'll need to judge if they're up to it!
Everyone has a warm welcome from us at the Mercat Cross. Read more about how we look after you and what to expect on tour on our Accessibility page and Euan's Guide Review.​
Tour location
Start point: Mercat Cross, High Street
End point: Blair Street Underground Vaults, Blair Street, off Hunter's Square
Need help booking?
Get in touch with us and one of our experts will be able to give you advice on our tours.
Other tours you might like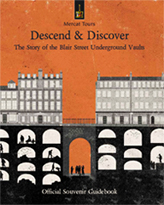 Souvenir Guidebooks
Don't forget to buy a Mercat Tours souvenir guidebook with your ticket.
See inside