Halloween Tours
Haunted Halloween
In Summary
Uncover the sinister side of Halloween in Edinburgh's Old Town
Experience the Blair Street Underground Vaults at their most haunted
Learn about murderers, prostitutes and torturers
This tour explores dark content for adults only, 18+
Check our COVID-19 measures - we'll ensure you will be safe, and feel safe on tour
About this tour
This Halloween ghost tour is not for the faint-hearted, taking you on a strictly adults-only journey through Edinburgh's ghouslish underworld that's guaranteed to make your flesh crawl.
Treason. Torture. Blood and gore. No story is off-limits – you will hear it all. And if the horrifying stories from Edinburgh's ghastly past don't chill your blood, your brush with the city's ghostly present surely will.
Deep into Edinburgh's haunted vaults
The tour starts after dark in the heart of the Old Town, where your expert guide – in Halloween costume – will lead you through the narrow closes and wynds of the atmospheric Royal Mile. Then it's down into the haunted Blair Street Underground Vaults for an unforgettable, spine-chilling, Halloween experience. This is truly the city's dark underbelly. A labyrinth of gloomy candle-lit tunnels and chambers once home to the city's thieves, prostitutes and body snatchers – and now a place where their restless souls are said to reside.

Please Note: To give a fully immersive experience, we'll provide a personal audio device. Your Storyteller will use a headset with microphone to ensure you hear every word in the hush of Edinburgh's haunted Old Town. Please do bring your own headphones/earphones - it's a standard 3.5mm audio jack.
Book ticket
Tour details
Dates & times
Friday 29th, Saturday 30th & Sunday 31st October.
These are dark, underground tours; please don't drink alcohol beforehand.
Everyone has a warm welcome from us at the Mercat Cross. Read more about how we look after you and what to expect on tour on our Accessibility page and Euan's Guide Review.
Tour location
Start point: Mercat Cross, High Street
End point: Blair Street Underground Vaults, Blair Street, off Hunter's Square
Need help booking?
Get in touch with us and one of our experts will be able to give you advice on our tours.
Other tours you might like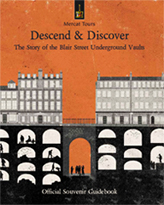 Souvenir Guidebooks
Don't forget to buy a Mercat Tours souvenir guidebook with your ticket.
See inside