Mercat tour
Spirits of Halloween
In Summary
Take a chilling look at Edinburgh's ghostly past on this ghost tour
Explore the Blair Street Underground Vaults, with extra surprises for Halloween
Recover in our candlelit cellar with a complimentary Witches' Brew.
Mercat exclusive audio devices - be immersed and get lost in the stories...
About this tour
Get into the spirit of Halloween with this spine-tingling ghost tour of Edinburgh's medieval streets and haunted vaults, which ends with a reviving Halloween cocktail in our atmospheric underground cellar.
Tradition has it that Halloween is the time when the veil between this world and the next is lifted, when the spirits of the dead rise and visit the living – so this is the perfect night to visit one of Scotland's most haunted locations.
Descend into the spirit world
The tour begins in the heart of Edinburgh's Old Town, where a storyteller in Halloween costume will lead you along cobbled streets once seeped in the blood, guts and gore of the city's grisly past. You then descend into the famous Blair Street Underground Vaults – a candlelit labyrinth of subterranean tunnels and rooms that are certain to maintain a ghost or two within their ancient walls. You'll then welcome that glug of Witches' Brew to calm yourself following this nerve-jangling experience.
Book ticket
There are currently no tickets available for this tour
View more tour
Tour details
Dates & times
Fri 27th - Tue 31st Oct 2023
Complimentary drink included
Children over 5 years old are welcome – but you'll need to judge if they're up to it!
Everyone has a warm welcome from us at the Mercat Cross. Read more about how we look after you and what to expect on tour on our Accessibility page and Euan's Guide Review.
Tour location
Start point: Mercat Cross, High Street
End point: Megget's Cellar, Blair Street, off Hunter's Square
Need help booking?
Get in touch with us and one of our experts will be able to give you advice on our tours.
Other tours you might like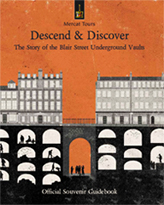 Souvenir Guidebooks
Don't forget to buy a Mercat Tours souvenir guidebook with your ticket.
See inside