Halloween Tours
Raising the Dead
In Summary
Spend Halloween in the Blair Street Underground Vaults and the Canongate graveyard
Hear of infamous murderers and cursed souls
Delve into the terror of Edinburgh's past
Enjoy a personal tour in a small group
Check our COVID-19 measures - we'll ensure you will be safe, and feel safe on tour
About this tour
Discover the Blair Street Underground Vaults at Halloween, with access no other company can offer. Then tread carefully to the Canongate graveyard, among the restless spirits of the dead.
The feeble candlelight is little comfort against the gloom of Halloween in the Blair Street Underground Vaults. Experience Edinburgh's most haunted site at the most haunted time of year: you may see a figure in the shadows, feel a chill breath on the back of the neck, a thin draught in a deserted passage. And all the while, your expert Mercat Storyteller, in full Halloween costume, will spin wild and haunting tales of Edinburgh's past – all of them true.
Cannibals. Murderers. Body snatchers.
Emerging from the vaults, you'll pace the dark streets to the Canongate graveyard. Buried there, somewhere among the city's most famous residents, is James Douglas, 3rd Marquess of Queensbury – the dreaded cannibal of Canongate. Watch out for the unexpected, for nothing truly rests at this fitful time of year.
Please Note: To give a fully immersive experience, we'll provide a personal audio device. Your Storyteller will use a headset with microphone to ensure you hear every word in the hush of Edinburgh's haunted Old Town. Please do bring your own headphones/earphones - it's a standard 3.5mm audio jack.
Book ticket
Tours details
Dates & times
Friday 29th, Saturday 30th & Sunday 31st October.
Departs 7.30pm
These are dark, underground tours; please don't drink alcohol beforehand.
Everyone has a warm welcome from us at the Mercat Cross. Read more about how we look after you and what to expect on tour on our Accessibility page and Euan's Guide Review.
Tour location
Start point: Mercat Cross, High Street
End point: Canongate Graveyard
Need help booking?
Get in touch with us and one of our experts will be able to give you advice on our tours.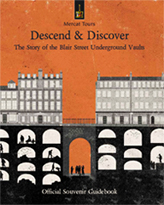 Souvenir Guidebooks
Don't forget to buy a Mercat Tours souvenir guidebook with your ticket.
See inside