History Walks
Evening of Archives and Artefacts
In Summary
Get exclusive access to the Blair Street Underground Vaults – the city's oldest, deepest vaults
Become an archaeologist with our in-house expert
Handle and examine genuine artefacts discovered in the vaults
Discover archival documents about the building of the South Bridge, from the time of its design and construction
Enjoy a refreshment of locally sourced soft drinks or glass of claret, typical of 18th Century Edinburgh
Mercat exclusive audio devices - be immersed and get lost in the stories...
About this tour
Underground tour
Want to see Edinburgh's darkest secret? With your small group, descend into the Blair Street Underground Vaults, exclusive to Mercat Tours.
It's a story rooted in Edinburgh's Georgian past – grand feats of engineering, the expansion of the city, and those who were left behind in its darker corners. But why were the vaults built? And who used them?
All your questions will be answered as our award-winning Storyteller bring the history of the vaults to life.
Expert-Led Workshop
After your tour you will head to Megget's Cellar - our underground suite. Here you'll have a unique opportunity to get hands-on with the history of the Blair Street Underground Vaults in an interactive workshop.

Our in-house archaeologist has selected items from our collections that illustrate life in the vaults throughout their history. You'll handle these objects and piece together their part in the story under the guidance of our expert.
Then, examine archival documents – maps, plans, street directories and newspaper articles, that record the planning and building of the bridge, as well as public attitudes towards it . Throughout, enjoy a glass of claret – a drink once stored in volumes in the vaults below.
Join us to discover the true stories held within the vaults.
Book ticket
Tour details
Dates & times
ONE-DAY EXCLUSIVE 4pm, 23rd Sept

Private group bookings
Reconnect with friends and family on a tour just for you. Book online now, or we're happy to help on email groups@mercattours.com
Details
Donate to help us reconnect vulnerable communities through storytelling - learn more about Our Stories, Your City.
Everyone has a warm welcome from us;
NEW FOR 2023; local Edinburgh residents eligible for concession rates (EH postcodes)
Carers supported with a free ticket, to book call us on 0131 225 5445.
Read how we work to include you, here
See our Euan's Guide Reviews.
Language: English. Learn more on our FAQs.
Tour location
Start point: Mercat Cross, High Street
End point: Blair Street Underground Vaults, Blair Street, off Hunter's Square
Need help booking?
Get in touch with us and one of our experts will be able to give you advice on our tours.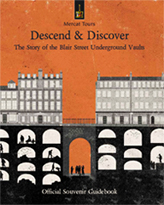 Souvenir Guidebooks
Don't forget to buy a Mercat Tours souvenir guidebook with your ticket.
See inside