Private Tours
Your Personalised Tour
In Summary
Enjoy a personalised tour, just for you
A relaxed experience at time to suit you
You pick the stories and theme you'd like to hear
Have a 5 star storyteller all to yourself!
Choosing Mercat is 'Good for you, Good for Edinburgh' - our team, community and environment
About this tour
It could be a half-hour walking tour that delivers you effortlessly to your restaurant booking. Or perhaps an afternoon designed specifically for architects, Walter Scott aficionados or historians
of crime and punishment.
Choose the time, the duration, or the location – and let us do the rest.
With the largest group of storytellers of any company, and a vast range of expertise, we can give your group a completely tailored tour. From the greatest hits of Edinburgh to the intricate depths of the Enlightenment, anything's possible.
The Palace? The Castle? The Blair Street Underground Vaults? Just ask.
Bespoke tours are usually for groups of around 10 – and we limit numbers to follow guidelines, keep you safe and give the very best experience. Got a bigger group? No problem – we just give you another storyteller or two.
We arrange everything for the walking tour – the storyteller, the route, the content. Looking for a good restaurant? We can recommend a few, of course. Just ask us when you book.
Enquire about Your Personalised Tour
Tours details
Need help booking?
Get in touch with us and one of our experts will be able to give you advice on our tours.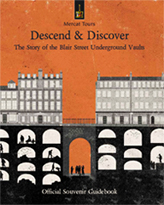 Souvenir Guidebooks
Don't forget to buy a Mercat Tours souvenir guidebook with your ticket.
See inside