Back to blog
4 Dark & Ghostly Tales Inspired by Edinburgh
13th Oct 2022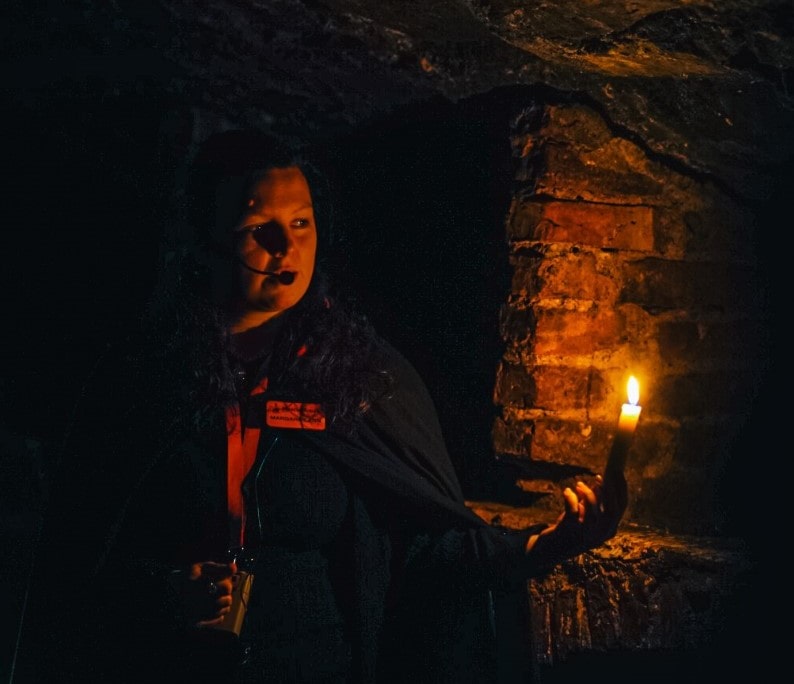 Written by Michael Robert-Brown, Mercat Storyteller
The sheer diversity of Mercat's Edinburgh Ghost Tours reflects the deeply layered, rich heritage of Scotland's beautiful capital city.
It is satisfyingly fitting that the city which inspired Robert Louis Stevenson should have its own "Jekyll and Hyde" personality; for behind the beauty and the pomp and pageantry of Scotland's capital lies a history of brutality and murder, of torture and execution, of ghosts, ghouls and gore.
1. Shakespeare's Macbeth
Edinburgh's stories resonate across time – the assassination of King James I in 1437 by conspirators led by Walter Stewart, Earl of Atholl, was embellished some 150 years later by William Shakespeare. He used key elements of the tale as the basis for Macbeth and on our Hidden and Haunted ghost tour, you can learn the grisly details of Walter's fate – and it's a lot nastier than walking trees and a duel to the death with MacDuff...
2. Dr. Jekyll & Hyde
William Brodie, Deacon of the Guild of Wrights and Masons, found literary fame when his story was used by local lad Robert Louis Stevenson as the foundation for Dr Jekyll and Mr Hyde, and you may well discover more of his hypocritical life on our Doomed, Dead and Buried ghost walk. Brodie became infamous for the double life he led in the 1780s as a respected council member by day and theif by night, the same period that Edinburgh's South Bridge was built, home to the city's famous underground.
Did you know that all of our ghost tours include time inside the Blair Street Underground Vaults? Mercat Tours have exclusive access to the largest section of Vaults open to the public and our guests frequently comment on mysterious goings-on beneath the busy thoroughfare.
3. The Ghost of Christmas Past
Arguably, even literature's best-intentioned and happiest Ghost, the Ghost of Christmas Past, has their own connection to Edinburgh. A young Charles Dickens, on a visit from London, mis-read a tombstone in Canongate Kirkyard. The epitaph read "Ebeneezer Scroggie, Meal Man" but became "Ebeneezer Scrooge, Mean Man" and the anti-hero of A Christmas Carol was born, right here in Edinburgh. Sadly, Scroggie's gravestone has long crumbled into gravel, but that of his relative, economist Adam Smith, is still with us. The most visited grave in Scotland.
4. The Doctor & The Devils
The story of Burke and Hare, the serial killers who murdered their victims for the cash their bodies would yield at the city's medical school, has also been subject to numerous literary treatments, including The Doctor and the Devils by Dylan Thomas and several movie adaptations. Perhaps you may learn more about them, and the Resurrection Men, on our Evening of Ghosts and Ghouls Tour.
Did you know the link between these famous stories and the city of Edinburgh? Whatever your particular taste for the literary macabre, you'll be sure to find a flavour of it on one of our five-star ghost tours.
Take a look at the tour timetable to see what's on today. Plus, don't forget to sign-up to our fortnightly newsletter for more tales from Edinburgh's dark side.