Back to blog
"Walk the walk together" | Mercat Tours
18th Sep 2020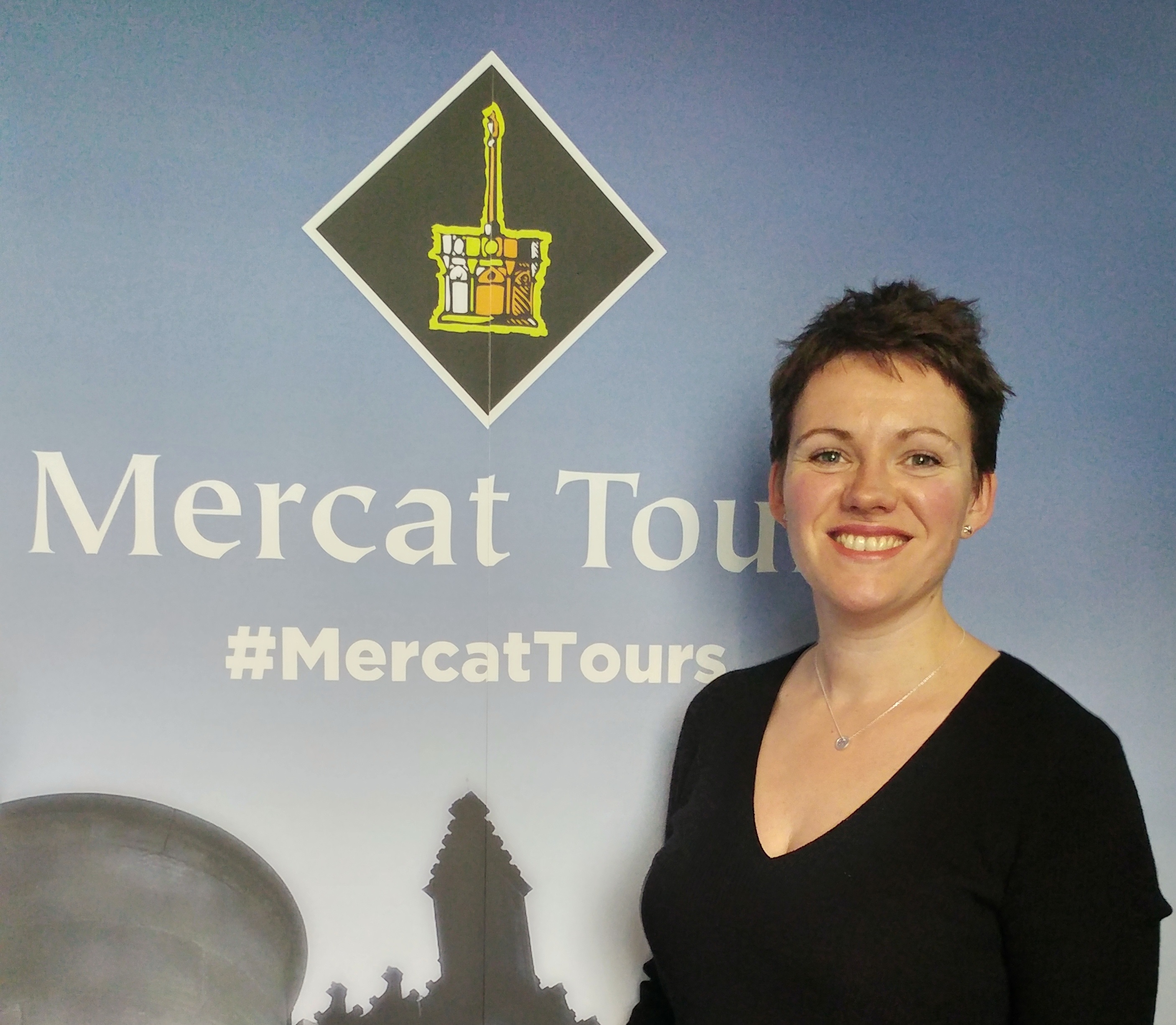 Mercat Tours Managing Director Kat Brogan continues her recollection of Mercat through the years.
Mum's the Word
This wasn't in the blog plan. In fact, mum's chapter at Mercat wasn't really in the Mercat plan either.
I'm adding this to redress the balance, triggered by a comment on my first blog, 'How do you follow a Legend?'...
'Follow her lead!' the comment read.
It immediately made me think of mum (assuming that's who they were referring to). That led me to this impromptu – and I now realise VERY important – addition to My Chapters.
The lady who introduced herself as 'Win - the opposite of lose' was at her peak, leading Mercat to its own giddy peak, for a few short years in 2003-2007. Having taken early retirement as Headteacher from an Edinburgh High School, mum was quickly restless. Her incredible drive, intelligence, skill and insight was easily transferred to tourism and she relished the new opportunities that working with Mercat brought.
We lost mum suddenly in July 2007 and, as time played its cruel trick, I had begun working at Mercat five months earlier, whilst she was ill. We never worked together. We did share time at Mercat, in a way, but sadly only when I saw emails addressed to her arrive, then be quickly handled by the team; heard phone calls asking for her by name, hushed and hurriedly answered. Most difficult was being surrounded by files covered in her distinctive curled handwriting in every drawer I opened.
Arguably, I followed mum, before I followed dad. In my last blog, I explained the difficulties in following 'Des the Legend' - gender, age and imposter syndrome. For all the reasons I was compared in contrast to my dad, I was likened to my mum.
A "visionary dynamo" would be how many described mum - a compliment. Formidable and unforgiving, another… So any comparison, apart from the pain of her loss, brought very raw, deep and mixed feelings.
This is a very unique dimension to family business that is well researched, and is maybe worth exploring in another blog… For now though, suffice to say that pride, pressure and grief are a heady mix of powerful emotions to have, whilst sat publicly at your PC every day.
That was my start at Mercat – the First Legend I followed.
Walk the Trench
Back to 2015, following the "Legend of Dad" as "Reluctant Leader, Kat the MD".
That the boss should "walk the floor" is an antiquated concept that implies staff need supervising; watching. It's patronising and negative. I quickly realised that instead, I prefer to "walk the trench". This has always been an important value for Mercat and me, where managers are at the coalface leading from the front.
For example, all of our (newly named) Leadership Team walk the trenches – at the visitor reception, on the phone and at the Mercat Cross (where every Edinburgh Tour begins), looking after our team and visitors whilst being frozen, soaked or burnt, depending on Scotland's mood.
And every year, for 15 years now, I'm found walking the trench – literally. I guide our MTI tours, exploring the lessons of The Great War with 40 school students per tour in Belgium and France. I face the same delays at passport control, the unknown mood of French police, the discomfort of an overnight coach journey and the sheer joy of working with young people.
It's a powerful message to the team to see their leaders ready, able and willing to do whatever you ask them to do – our Leadership Team has and will continue to "walk the trench". That's the Mercat Deal.
Building Communities and Success, Together
At this time, Edinburgh tourism was thriving. Mercat needed to learn from the best to grow in a sustainable, responsible manner, true to our values. Fortunate enough to see demand increasing, I recognised that new partnerships and products held the key to securing more jobs and our next steps..
With time and collaboration, we built partnerships with Edinburgh Castle, National Museum of Scotland and the Palace of Holyroodhouse. The fact that we were the only Edinburgh tour company to have exclusive contracts with the premium heritage attractions of Scotland's great capital was testament to the quality of our reputation, and the hard work of the team.
With dedicated time spent on researching, listening and learning, we were described as 'pioneers' by Green Business Tourism Scheme; achieving the GOLD award on our first application in 2016. We were also awarded Business in the Community's SME of the year award in 2016, and Responsible Business by Edinburgh Chamber of Commerce in 2019.
Connecting with like-minded ethical businesses led us to become firm friends with Grassmarket Community Project social enterprise, supporting their valuable work and members. Going back to Mercat Tours' roots, born in an Edinburgh classroom with dad teaching history, it was natural for us to connect and become lifelong members of our local heritage communities, Edinburgh World Heritage and Cockburn Association.
The power of partnerships (or rather communities) and assisting as much as learning from others, has also led us to sitting on the boards of the Association of Scottish Visitor Attractions, Scotland's History Festival, Edinburgh Tourism Action Group, VisitScotland's Quality Advisory Committee and the Old Town Community Council.
This underlines a core value for Mercat – we build communities, not profit. As it happens, in nurturing our relationships within the tourism community, and welcoming talent into our Mercat community, it attracted visitors. In turn, this grew our income and ability to invest further in the team with training, driving up standards and delivering the very best, 5 star experience for visitors.
Bumps in the Road
However, taking over mum and dad's legacy wasn't without its challenges. Stay tuned for my next blog; where I discuss some of the tough times I endured, and how the Mercat team and values helped me through it, ensuring that we consistently offer a 5-star Edinburgh Tour experience.