Private Tours
Hidden Georgian Gems
In Summary
Take a private tour with an experienced guide
Explore the history of the finest street in Edinburgh's Georgian New Town
Enjoy rare access to the exceptional interior features of some of George Street's famous buildings
Enjoy a private tour with an expert guide
Mercat exclusive audio devices - get immersed and lost in the stories...
About this tour
Explore Edinburgh's New Town – the Enlightenment built in stone. On this private tour, you'll discover the finer points of 18th-century life: from the Royal Society of Edinburgh to the elegant Assembly Rooms.
This private tour of George Street gives you the chance to explore the history of Edinburgh's New Town – home to literature and science, pretty garden squares and ballrooms ablaze with glittering chandeliers.
Explore the Royal Society of Edinburgh, the home of intense discussions between scientists, writers and architects. See inside the Assembly Rooms, opened for the Caledonian Hunt Ball in 1787 and impressing audiences ever since. Discover the thought behind this exceptional example of city planning – from the first designs to the neo-classical grandeur that gives Edinburgh's New Town its unique atmosphere.
See behind locked doors and neo-classical porticos
Your private guide will unlock the stories of who built what – and why – as you walk along George Street. You'll have rare access to some of the most famous buildings – including the Royal Society of Edinburgh, where generations of scientists, inventors and philosophers have tested their ideas.
Developed in partnership with Edinburgh World Heritage and supported by Essential Edinburgh, this private tour shows you a side to the city that others often miss.
Enquire about Hidden Georgian Gems
Tours details
Tour location
Start point: St Andrew's Square
End point: Assembly Rooms, George Street
Need help booking?
Get in touch with us and one of our experts will be able to give you advice on our tours.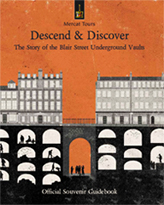 Souvenir Guidebooks
Don't forget to buy a Mercat Tours souvenir guidebook with your ticket.
See inside